SUCCESS! I've emailed you the link.
Please allow 3-5 mins for delivery.

First, check out the exciting offer below!
Nail Guitar Enhanced Lessons
Join Enhanced Lessons
now for just $57
Renews yearly, cancel at any time.
Enhanced Lessons gives you...
Access Nail Guitar song lessons a week before they go live on YouTube.
Notice how YouTube now often run 2 ads in a row before you can start watching a video? Annoying isn't it!

As a member of Nail Guitar Enhanced Lessons you will NEVER have to wait through ANY pre roll ads again.

Not only are lesson guides accessed on their according lesson page, but they're integrated onto the page, so you don't even have to click anything!

This means a much smoother learning experience with less hurdles.

For lessons that feature backing tracks, they are right there on the page to either stream or download at the click of a button.
Select lessons feature tab play along videos at slow and regular speeds. It's the perfect way to build up to playing along with original song recordings.
The old way to access lesson content:
1. Click the link in the video description
2. Enter your name and email in the opt in form.
3. Check your email for the access link.
4. Open the downloads page.
5. Find and download the lesson content.

The new way:
Select a lesson and view the lesson material right there on the page. Everything all in one place, how it should be.
While it can be funny to share stories with your friends of how you went to YouTube to watch a Led Zeppelin video… only to find yourself 45 minutes later watching funny pet videos, the reality is YouTube is terrible for your focus when you're actually trying to LEARN.

The Enhanced Lessons interface is clean and clutter free, allowing you to focus on learning without distractions.
While literally anyone can leave a comment on a YouTube video, you have actually invested in your learning.

Because I know you're serious, Enhanced Lessons members will be my go to audience for input in shaping future Nail Guitar videos, as well as training, and tools.
What students are saying...
"Streamlined the process..."
"The combination of both video and tab on the same page has streamlined the process of learning guitar for me".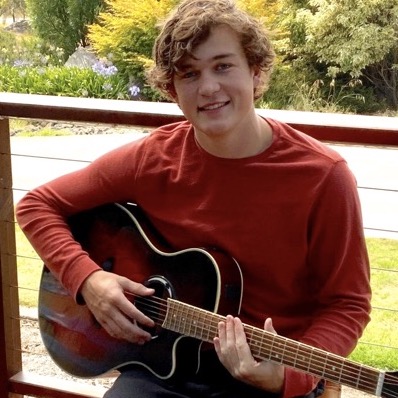 Mitch Lyne
"Andy makes the lessons fun..."
"Andy makes the lessons fun and lets you learn at your own pace. He is a fantastic teacher!"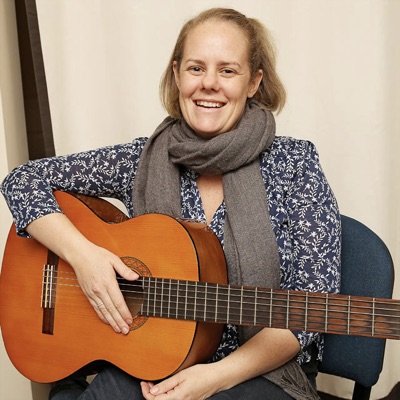 Jacqui Cameron
"Andy never loses sight of the hurdles that a newbee faces..."
"Andy never loses sight of the hurdles that a newbee faces in taking on this beautiful and challenging instrument."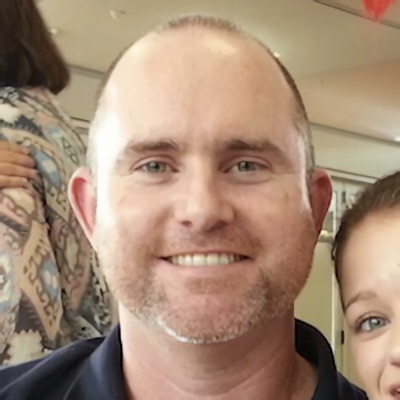 Graham Lillywhite
Enhanced Lessons Advantages

Already featuring 230+ lessons, the Enhanced Lessons library is always growing.
✓ Alphabetical Lesson Library
Unlike Patreon that can only be navigated by upload date, Enhanced Lessons library is alphabetical, so you can easily navigate to the lesson you want with ease.
✓ Auto Track Lessons Watched

No need to take notes, the Nail Guitar system conveniently keeps track of which lessons you've watched.

Each Nail Guitar training product or tool you purchase is accessed via your single personal login so there's no need to search through old emails for download links when you get a new computer, tablet or phone.

✓ Lightning Fast Video Loading

All videos load freakishly fast thanks to advanced CDN streaming technology. YouTube feels snail paced in comparison.

Desktop, laptop, tablet or phone.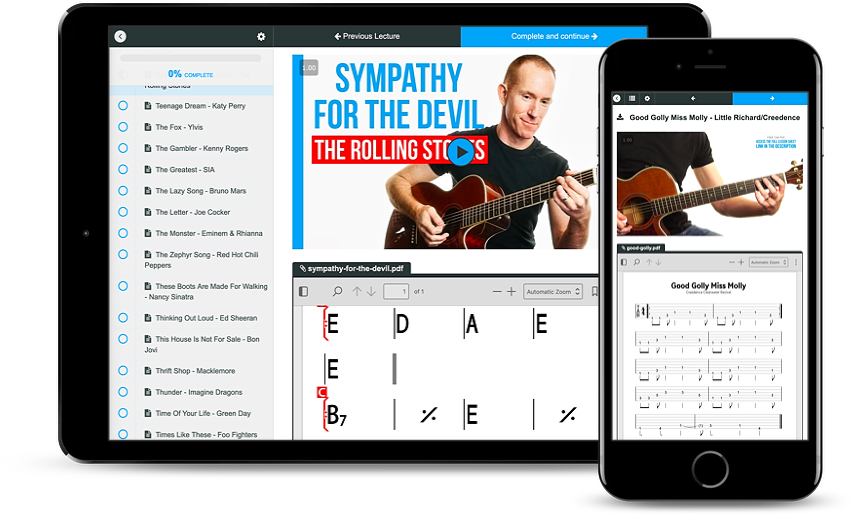 Ultimate Song Lessons Cheat Sheet
The perfect companion to your Enhanced Lessons membership, the USLCS is a comprehensive database of every Nail Guitar song lesson.

It includes all the info a progressing guitarist needs to make smart learning choices.

The cheat sheet includes...
✓ Power & Bar Chord Indicators
✓ Best For Beginners Indicator
✓ Quick Search Functionality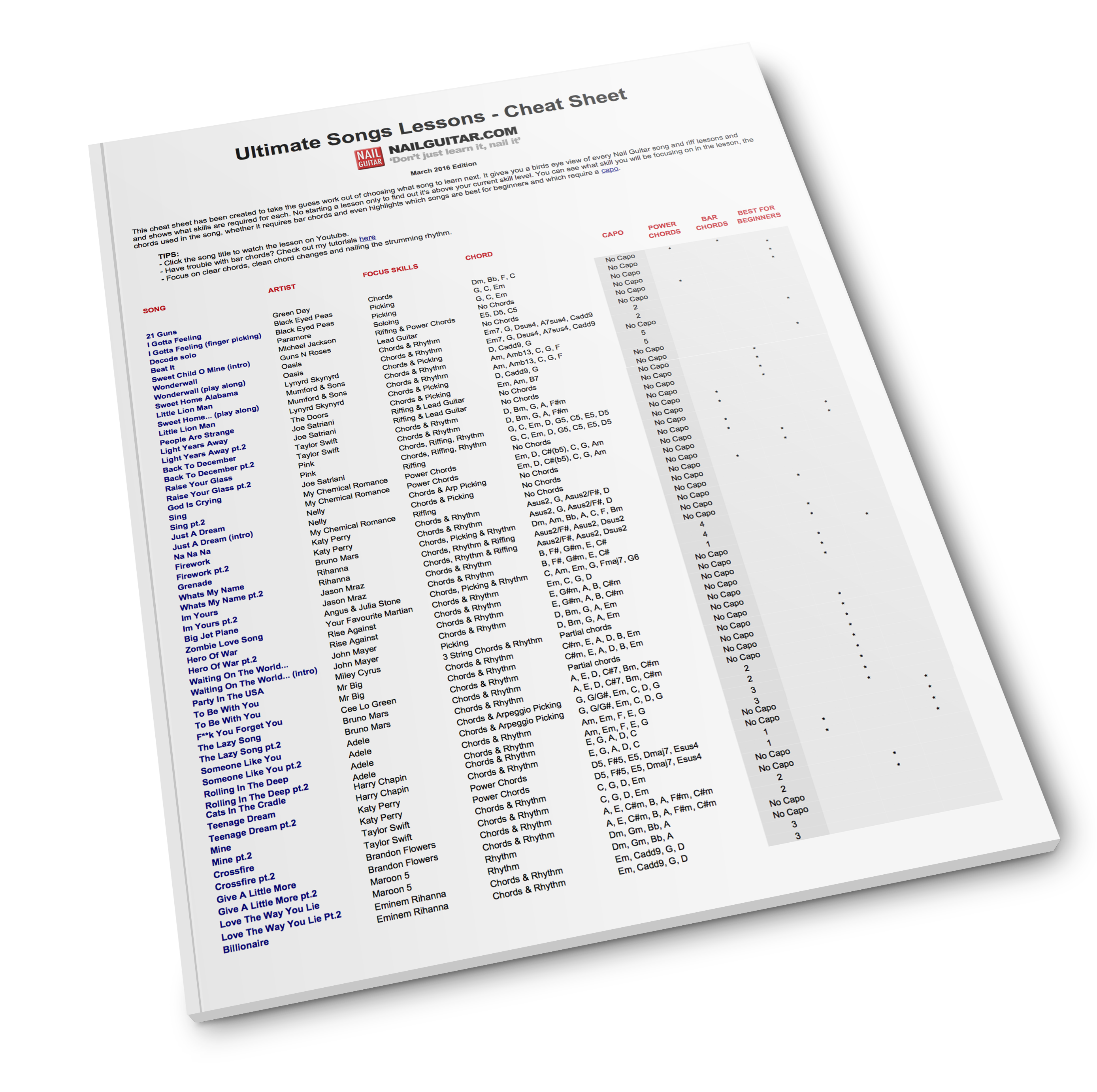 Embedded into the platform is the Nail Guitar Lesson Songs Spotify playlist, where you can listen to the original recordings of songs taught.

Great for when you recognize a song title but can't quite remember how it goes.

No more typing song titles into YouTube and and waiting through ads. Its all about easier learning.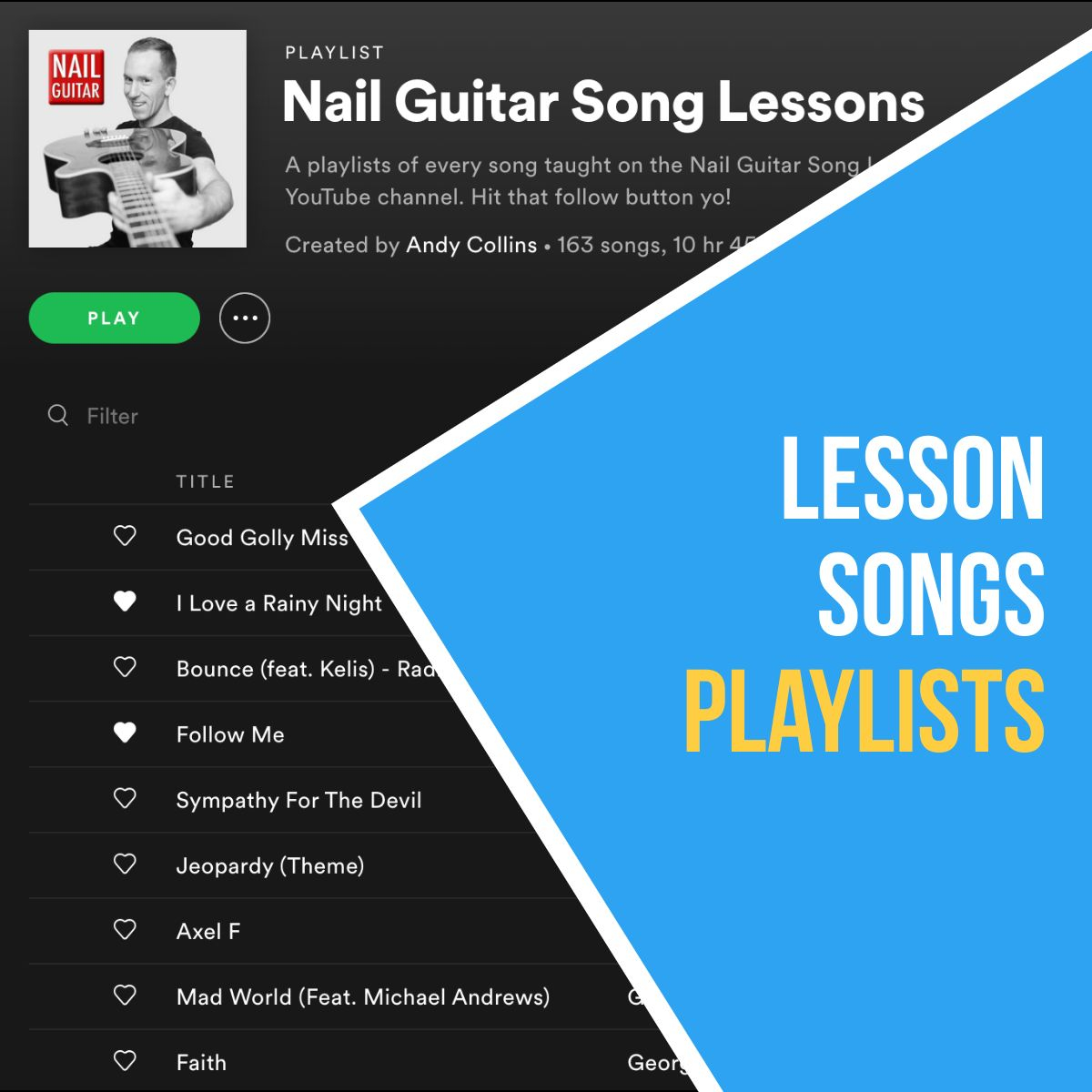 'Song Solutions' Masterclass

Founding members sent me their biggest challenges relating to the song lessons I've taught. I've compiled them and shoot a masterclass providing solutions to your biggest obstacles.

(Coming soon)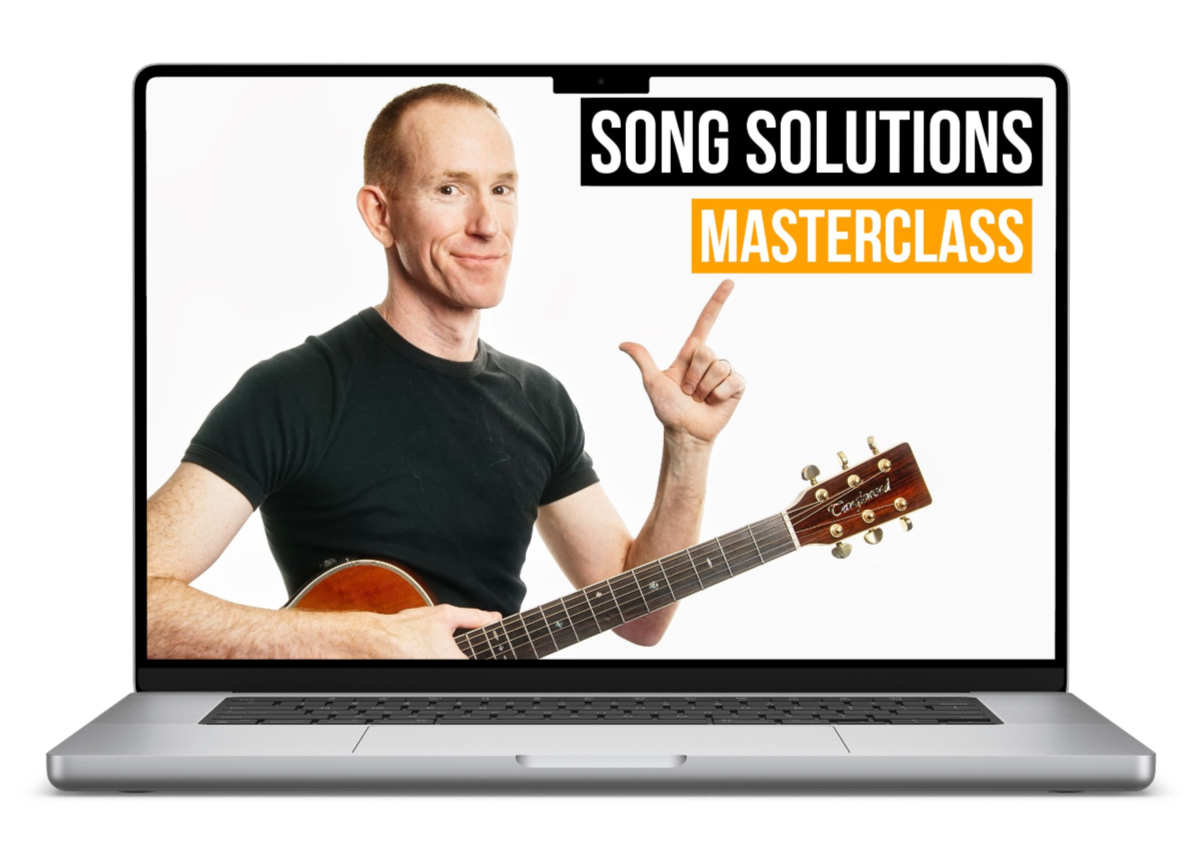 Frequently Asked Questions
Is it safe for me to pay online?
Yes, Nail Guitar products are sold through Thrivecart.com - they are one of the most trusted online retailers specializing in digital delivery of products.
How will I access my purchase?
At checkout you will be prompted to enter your email. You will then be sent an email with directions to access your purchase.
If you have any trouble ordering, contact me
HERE
and I'll be happy to assist.
Make your purchase Risk-Free!
100% Satisfaction
30 Day Money Back
Guarantee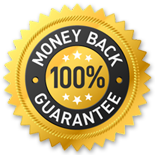 When you join Nail Guitar Enhanced Lessons I want you to feel completely comfortable with your purchase.

If you feel it doesn't deliver on what you see here, contact me for a prompt and friendly 100% refund of your purchase price. This can be any time in the next 30 days. You really can't lose.


Learning made easy in 2022
Picture your greatest year of success on the guitar, learning songs faster and easier than ever before.

Beyond just YouTube lessons with Patreon perks, Nail Guitar Enhanced Lessons provide a host of benefits to amplify your learning experience.

► Watch Nail Guitar song lessons up a to week earlier than on YouTube.
► YouTube ads have been eradicated so you can get straight to the playing.
► Each song guide is embedded on the page right under the video for easy learning.
► An alphabetical library and clean interface means finding lessons and staying focused is a breeze.

It's friction free learning, to achieve your goal of nailing songs sooner.
Join Enhanced Lessons
now for just $57
Renews yearly, cancel at any time.