Nail Guitar Enhanced Lessons
Every Nail Guitar song lesson with on page PDFs
Distraction free learning
Early access to new weekly lessons
Lifetime access to
Nail Guitar Enhanced Lessons
for just
$97
What if you could watch every Nail Guitar song lesson and not have to leave the page to access support material such as pdf song guides, backing tracks, tab

Did I mention it's 100% free of Youtube ads?

Beyond just YouTube lessons with Patreon perks, Nail Guitar Enhanced Lessons provide a host of benefits to deepen your learning experience.

Enhanced Lessons allows you to...
Jam Any Time, Anywhere
Jam tracks allow you to practice your soloing any time, not when your mates can meet for a jam.
Develop Hired Gun Skills
Jam tracks with a wide variety of styles and all 12 keys means you'll become that gun of a guitarists who can solo in any key!
Improve Your Timing
Playing with rock solid jam tracks develops your timing, your ear and your feel.
Modal Familiarity
Learn to recognise and jam over modal chord progression based on all 7 modes.
Build Speed
Improve your soloing faster choosing the tempo that suites you best, slow, mid or fast. Start slow and once your skills improve challenge yourself!
Aren't modes just nerdy jazzers?
Hellz no, modal chord progressions are happening right under your nose and you didn't even know it.

Just check out this list of classic songs that are built on modal chord progressions.
The Happy Mode
Let It Be, Wish You Were Here, Summer Of 69 and pretty much every song that sounds super happy.

Ionian is the modal name for the major scale, so you find it everywhere... Pop, Rock, Country, Jazz, you name it.
The Spacey Mode
The Simpsons Theme, The E.T. Theme, Flying In A Blue Dream - Joe Satriani.

What members are saying...
"Sed ut perspiciatis unde omnis iste natus error sit voluptatem accusantium doloremque laudantium, totam rem aperiam, eaque ipsa quae ab illo inventore veritatis et quasi architecto beatae vitae dicta sunt explicabo."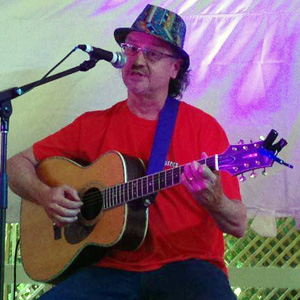 Rich Johnson
Chicago, USA
Enhanced Lesson Advantages

Desktop, laptop, tablet or phone. This a great option for phone and tablet owners as the collection comes takes up a lot of hard drive space.
For those who prefer have the tracks on their computer you also have the option to download the package.
On the Nail Guitar platform, it's easy to find the exact style, tempo and key with you want in just a few clicks.
✓ Keep Track Of Your Jams

No need to take notes, the system also allows you to keep track of what style and tempos you've already jammed on.
Each Nail Guitar training product or tool you purchase is accessed via your single personal login so there's no need to search through old emails for for download links when you get a new computer, tablet or phone.
For those audiophiles out there, you'll be please to know that each jam track is in the highest quality MP3 format, 320kbps.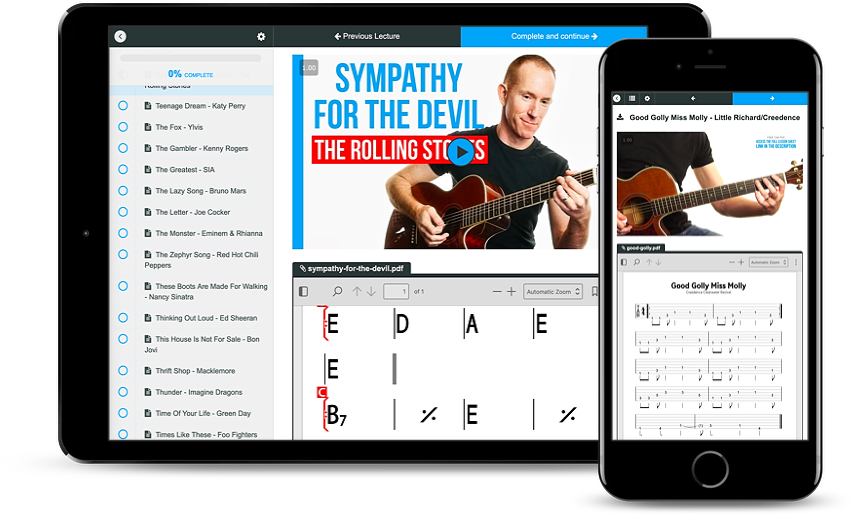 Ultimate Song Lessons Cheat Sheet
Choose your next song to learn, knowing it will be perfect for your skill level… no more just clicking and hoping.

The Ultimate Song Lessons Cheat Sheet is a comprehensive database of every Nail Guitar song lesson, with all the info a progressing guitarist need to make smart learning choices.

The cheat sheet includes...
The song title and who plays it, say no more :)
With this you'll see what skills you'll improve form going through the lesson.
A super valuable quick reference so you can see what chords are used in the song. This feature alone will help you make drastically smarter decisions when learning your next song.
Know if the song uses a capo and on what fret.
✓ The Power Chord Indicator
Know if a song uses power chords. You'll love this feature when you just feel like learning some good old classic power chord rock'n'roll.
✓ The Bar Chord Indicator
Super handy as you begin challenging yourself.
✓ The Best For Beginners Indicator
If your still a newbie, this will be a life saver in your selection of songs to learn first.
The cheat is easily searchable using the in built search functionality of your PC or Mac.

Embedded into the platform is the Nail Guitar Song Lessons Spotify playlist where you can listen to the original recordings of songs taught.

No more typing song titles into YouTube and and waiting through ads. Its all about easier learning.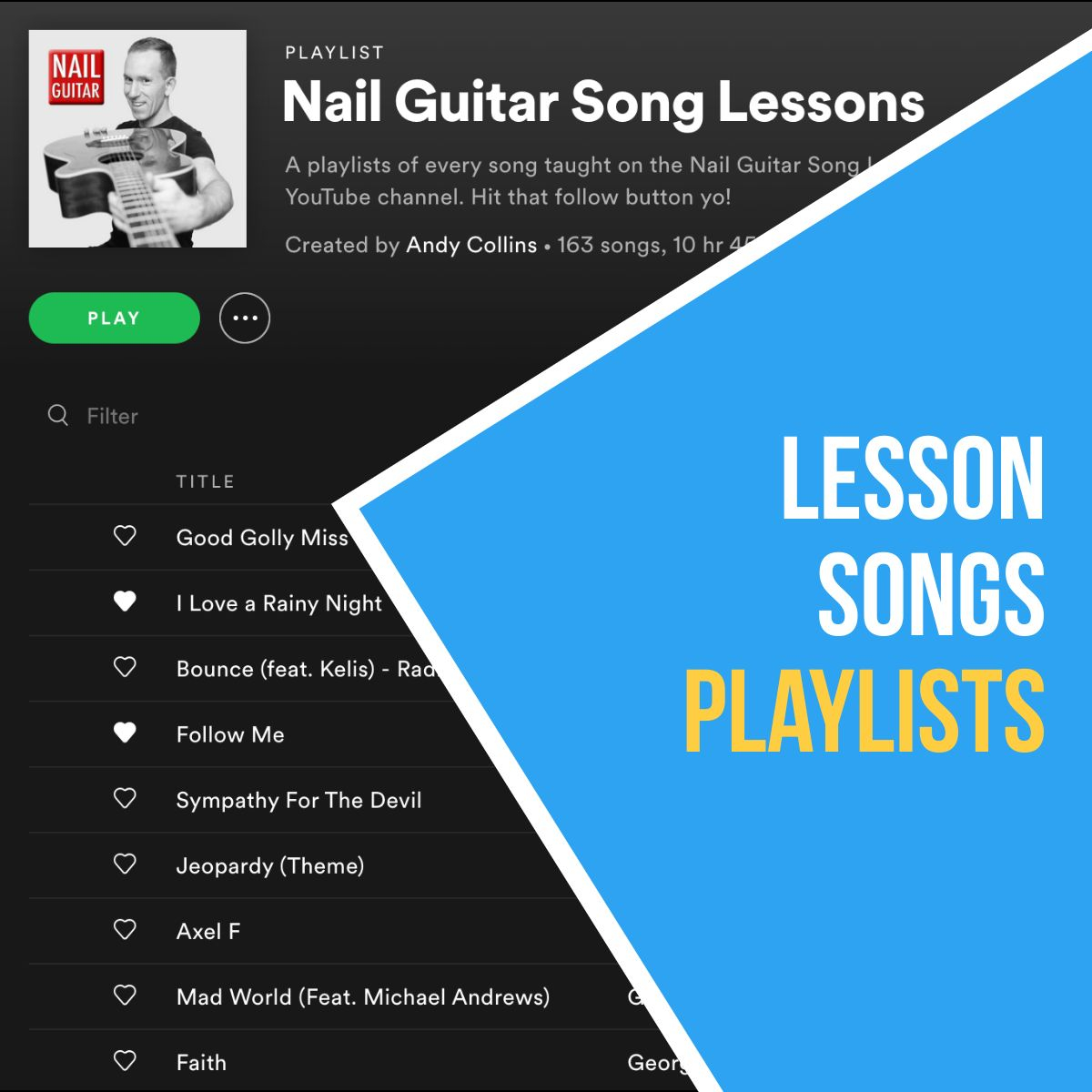 Frequently Asked Questions
Is it safe for me to pay online?
Yes, our products are sold through Teachable.com - they are one the biggest and most trusted online retailers specializing in digital delivery of products.
How will I access my purchase?
At checkout you will be prompted to enter your email. You will then be sent an email with directions to access your purchase.
Make your purchase Risk-Free!
100% Satisfaction
30 Day Money Back
Guarantee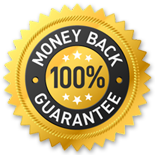 When you join Nail Guitar Enhanced Lessons I want you to feel completely comfortable with your purchase.

If you feel it doesn't deliver on what you see here, return it for a prompt and friendly 100% refund of your purchase price. This can be any time in the next 30 days. You really can't lose.


Experience the difference with enhanced lessons.

Just be warned, you won't want to go
IMPORTANT: I'll be adding more tracks to this collection in future and upping the price. Get onboard as an early bird and you'll receive additional tracks in the coming months at no extra cost!

Get
250 Modal Jam Tracks
now for
$97