Are you ready to play amazing solos like your guitar heros?


If you're like most guitarists who have tried to learn to solo, you most likely learned a scale shape, a few techniques and a lick or 2 and assumed you'd soon enough be soloing up a storm.

In reality, you most likely hit the wall.  

What's the wall?

The wall is when you believe you have all the necessary ingredients to solo but no matter how you combine them you don't seem to be able to play anything resembling a REAL SOLO.

(Don't feel bad, this is how I feel when I try my hand at cooking in the kitchen. I may have the ingredients and instructions but I can't make a cake like they show in the book to save my life!)

The traditional method of learning to solo is INHERENTLY FLAWED.
I call it the 'hope method' because you take a scale, a technique, a guitar lick and hope it will result in you playing great solos.  

Unfortunately, this is how most people try to learn to solo, and even scarier is how the vast majority of guitar teachers try to teach their students.

Yep, it's not just you… It's teachers as well! They will throw scales, techniques, and licks at you and just HOPE that you'll be able to solo!

Sounds crazy, huh? So why is this the norm?

Because the reality is most people teach the way that they were taught. A small percentage of guitarists are naturally musical and are able to take these raw ingredients and bake great solos with minimal effort.

I don't know about you, but I don't like the idea of HOPING to become a good lead guitarist…HOPING that I will have natural musical ability.

It drives me CRAZY that this is the way soloing is taught! So, I set out to change that by creating a system that takes you from clueless newbie to competent lead guitarist in the fastest time possible.
With Start Soloing Today, I have put together the ultimate no fluff course to get you playing solos, pronto.  

Knowing all the technical theory has its place and I can teach you that at the right time when it's going to be more useful to you. But that time is not now. With Start Soloing Today, I get right to the PRACTICAL knowledge and skills that matter most.

I'm glad to say that I'm a much better guitar teacher than I am a cook.
Start Soloing Today is built on the foundation
of Nail Guitar's NEXUS METHOD.
It's a system in which everything you learn plugs in together like a Voltron toy, so it's easy to remember.  For those of you too young to remember Voltron think of it like Lego - all the bits join together ;)

This means that unlike the 'HOPE method', that you don't have random pieces of knowledge floating around in your head. You're going to understand how all the pieces fit together – no more hoping!
If you're an intermediate guitarist with half decent soloing skills and want to take it further this is NOT the course for you. If, on the other hand, this is your first adventure into the world of lead guitar or if you feel your skills and understanding are like Swiss cheese (full of holes), Start Soloing Today is the perfect reset button for your learning that will give you a rock solid foundation.
In Start Soloing Today I'll reveal the single biggest assumption that 99% of guitarists make about soloing that makes the whole game so much more difficult than it needs to be.

Clearing this faulty assumption is an ESSENTIAL part of the Nail Guitar approach and instantly redirects your attention to where it should be, allowing you to get real results.
Each module progresses step-by-step, building on the previous module.
Clear and simple explanations remove all the confusion so you can approach playing solos with a clear mind and actually ENJOY the process.
Lick examples illustrate exactly the concept being taught so you really 'get it'.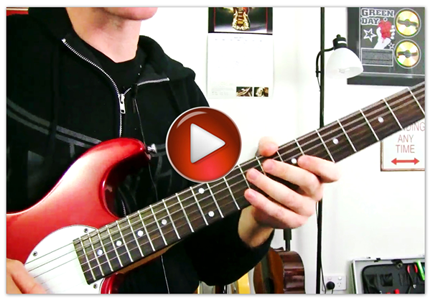 In module 1, I set the stage for you to be able to get the best results possible with the right mindset.

I outline where our journey will take us over the 12 modules and what to expect.

I explain the diagrams and symbols I will be using and provide a handy reference section so even if you've never read tablature or looked at a scale diagram before, you'll be fully prepped – no one gets left behind.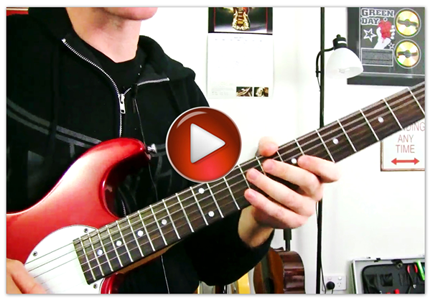 It all begins here… you will learn the pivotal scale that makes up over 80% of what you hear in all classic rock solos.

I'll introduce you to the concept of position playing that takes away the guess work of knowing which fingers to use.

You'll learn 4 soloing licks using this scale and I'll teach you my winning formula for writing your own soloing licks.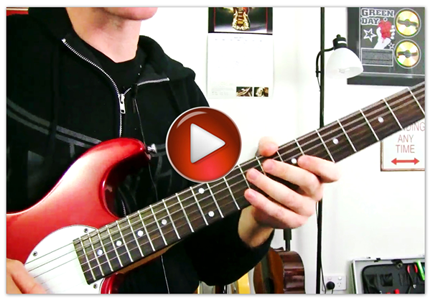 In module 3, I show you how changing key is nowhere near as scary as you're probably making it out to be in your mind.

We take the skills you learned in the previous module and shift them up in key, becoming confident about dealing entirely with fretted notes.

We then take our lick writing to the next level with a simple (but powerful) way to ensure that your licks are musical and not just a bunch of notes strung together.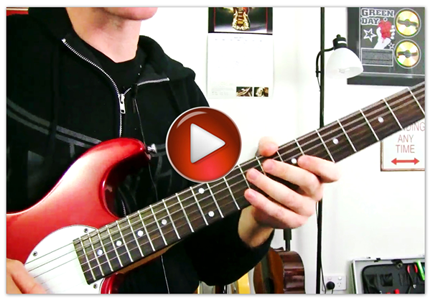 It's time to put it all together and learn your very first solo. Exciting stuff!

We start off simple with a super easy solo with plenty of open strings and space between phrases (so you have time to think!) Using the scale we learned earlier, you'll see how to structure a solo and make it musical.

We'll then look at playing the same solo in a different key, this time using entirely fretted notes. This adds greater challenge and gets you comfortable with the idea of takes licks from one solo and using them in other in any key.

Following that is a second solo incorporating more advanced licks.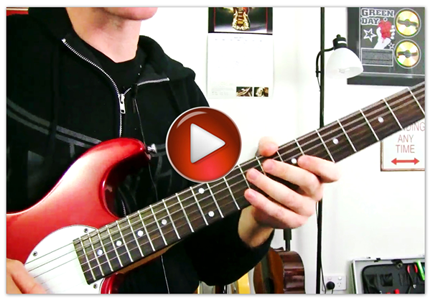 In module 1, I set the stage for you to be able to get the best results possible with the right mindset.

I outline where our journey will take us over the 12 modules and what to expect.

I explain the diagrams and symbols I will be using and provide a handy reference section so even if you've never read tablature or looked at a scale diagram before, you'll be fully prepped – no one gets left behind.

You'll learn:

What the difference between a lick and a riff is.

How to change soloing licks to any key you desire.

The 7 most important notes on the fret board.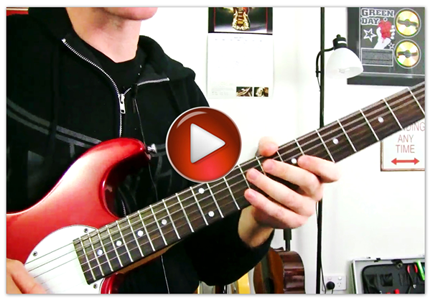 This is an exciting module, as you'll learn how to instantly breathe life into your solos as we master the 3 primary articulations:
1. Hammer-ons
2. Pull-offs
3. Slides

With these new skills in hand, your solos will really begin to flow.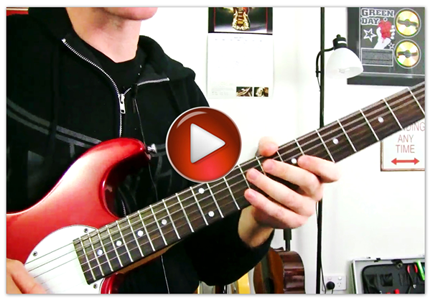 Now that you've mastered the 3 primary articulations, we go deeper and unleash your rock guitar mojo by incorporating bends and vibrato.

These techniques will allow you to develop your own personal sound that makes your solos recognizable.

Ever wondered why your attempts to bend sound more like a dying cat than a face melting solo? I'll teach you why; and, more importantly, how to correct it fast.

If you want to play awesome rock or blues solos, bending and vibrato are 2 super important techniques to nail. So that's exactly war we're going to do!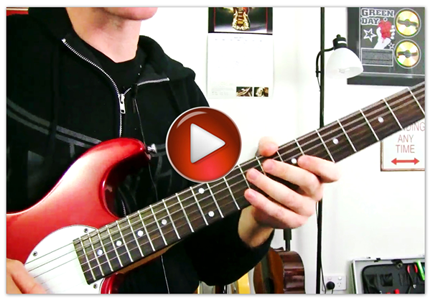 It's time to get bluesy as we add some attitude to your sound, learning the minor blues scale.

Module 8 also introduces what may be your biggest take away of the entire course, 'The Nexus Method'.

If you find learning the guitar to sometimes be more taxing on you memory than your fingers, 'The Nexus Method' is going to be an absolute life saver.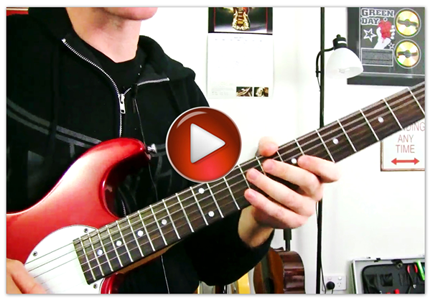 With the foundational skills of scales, licks, articulations, and your first 2 scales nailed, it's time to start moving around the guitar neck.

Many self-taught guitarists experience being 'stuck in the box' when soloing. Module 9 shows you how to avoid that problem from the get go, while still not overwhelming you with 'shapes overload'.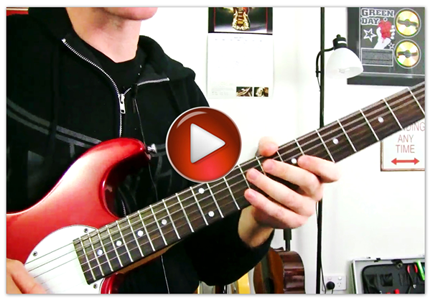 Learning scales in more than one place on the neck is great, but it's learning how to sculpt licks that move smoothly between positions that really allows you to solo like a boss!

Here, we take two 'extension tools' (the blues scale and the pentatonic extension box), and learn to weave them together. You'll learn 6 licks and then integrate the 'blues note' so you can hear them with and without the bluesy flavor.

This is great for your ears and for your fingers.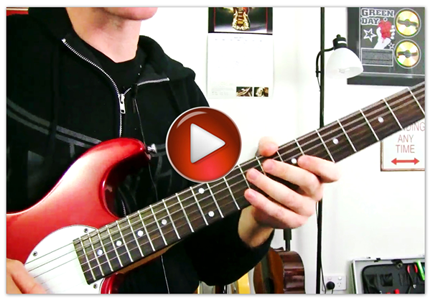 You've made it to the top of the mountain and it's time to put together all the skills you've learned in a balls to the wall AC/DC inspired rock solo.

The solo is taught in two keys; first in E-Minor, utilizing open strings, and then up the neck in A-Minor, engraining the skills needed to movie your own soloing ideas from one key to another.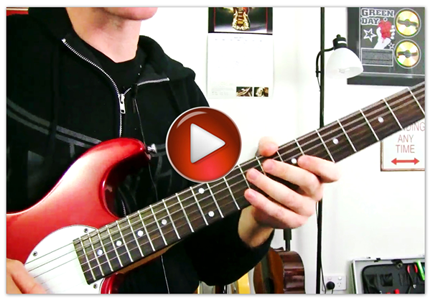 In this final module, we bring it all together recapping all the lessons you have learned throughout the course.

We look at the all-important and rarely spoken about topic of translating what you have learned into solos and how to feed that into your own improvisation.

I call this CONCEPT ASSIMILATION.

This is a super important distinction that will put you miles ahead of the crowd, given that so many budding guitarists encounter a disconnect in their mind between learning the solos of their favorite songs and improvising their own solos.

You'll be on on the fast-track to playing like your heroes while your friends watch in amazement.
Get these

5 awesome bonuses




with Start Soloing Today!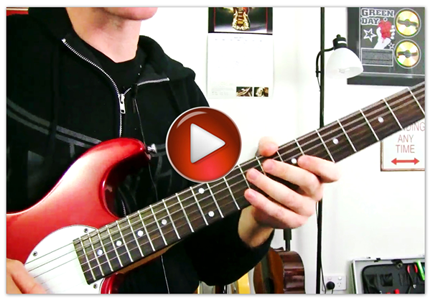 One of the simplest ways to get your soloing out of 'boring land' is by using double stops (playing 2 notes at once).

I'll reveal The Double Stop Matrix; my simple, yet powerful, approach to come up with 56? Double stop shapes that you can put into your solos straight away.

You'll no longer be stuck for ideas of what to play and your solos will instantly become more interesting.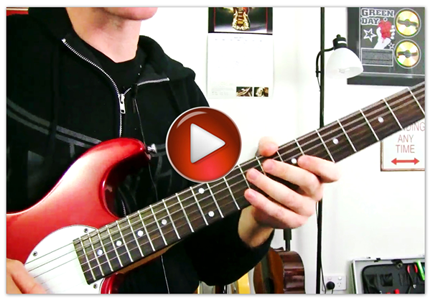 While the minor pentatonic is by far the most used scale for rock playing, you definitely can't disregard its red-headed step brother, the major pentatonic.

You'll learn how this scale fits into the big picture and some easy shortcuts to recognize when to use scale.

While loads of newbies try and place a square peg in a round hole by playing the minor pentatonic scale when it doesn't fit (and sounds awful!), you'll be laughing because you know the simple secret that will make your solos sound great in these situations.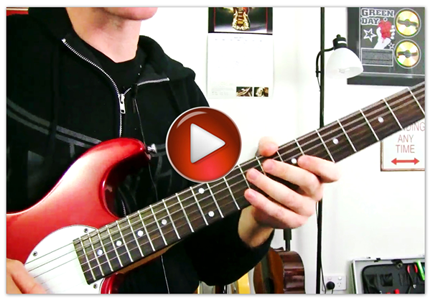 Nail Guitar Jam Packs offer great snack-size packages that contain the essentials to keep you progressing in your soloing skills. Each pack contains backup tracks, scale diagrams, licks, solo examples, and instructional videos showing you how to play awesome solos over the backup track.

These packs normally sell for $17 each, BUT you get the ———— Jam Pack absolutely free when you buy Start Soloing Today.

Even if you decide that Start Soloing Today isn't right for you, The Jam Pack is yours to keep.
Jam Track
Rhythm Guitar Lesson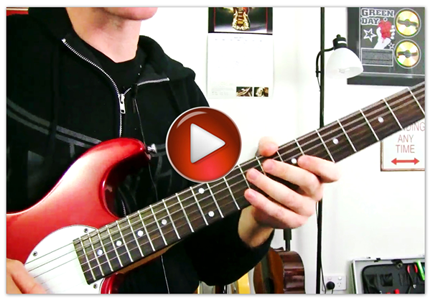 All too frequently, guitarists get so caught up in soloing that they miss the simplest way to play the song at hand.

The instant way to play better solos is to know what the rhythm guitar is doing underneath you! In this bonus, you'll learn the rhythm guitar parts of all 6 solo tracks.

This bonus allows you to go one step further, implementing the skills learned in 'The Double Stop Matrix' bonus.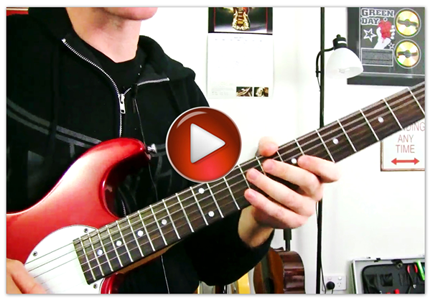 Learning to play the minor pentatonic across the neck is without a doubt the place to start. But knowing how to navigate up and down a pair of strings and generate licks in this environment opens up a whole new world of possibilities in your solos.

The concepts you will learn in this bonus are worth the price of the entire product!
With a University degree in music, over 18 years of face-to-face experience teaching hundreds of students and 200,000 subscribers to his online video channels, Andy's skills as a guitarist and teacher are obvious.

The Start Soloing Today course is built on the same foundation that makes Andy's teaching style so popular to over 26 million YouTube viewers.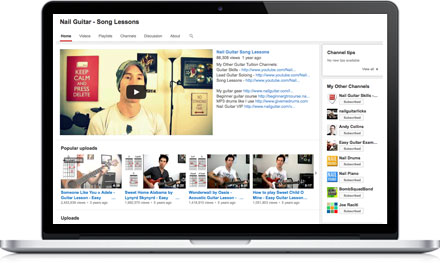 Don't tell my private students, but...
When I put my private students through the training contained in Start Soloing Today, it takes 6 x 30 minute lessons and I charge $30 per lesson.

You do the math, that's $180. You can get the same training for a fraction of the price… And that doesn't even include the 5 bonuses you will receive.
START SOLOING TODAY
$180 value

5 BONUSES
The Double Stop Matrix $27
Major Pentatonic $27
2 String Pentatonics $27
Major Jam Pack $27
Jam Track Rhythm Guitar Lesson $27

Total Value: $335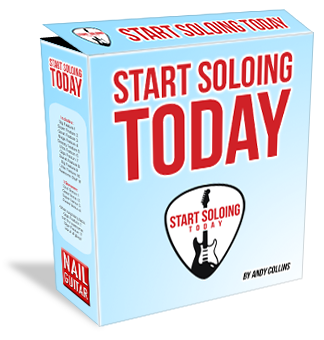 With the Start Soloing Today system, you can get all of this training for ONLY $97 $47 for the launch period only! That's less than the cost of 2 guitar lessons!
Your Give Me Drums purchase is Risk-Free!
100% Satisfaction
2 Month Money Back
Guarantee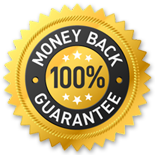 When you buy Start Soloing Today, I want you to feel completely comfortable with your purchase.

If you feel it doesn't deliver on what you see here, return it for a prompt and friendly 100% refund of your purchase price. This can be next week, next month, or up to 60 days from now.

What's more you can even keep the Major Jam Pack bonus as my thanks for giving it a try. You really can't lose.


It's time to become the awesome guitarist who plays eye-popping solos that wow friends, family and audiences.
No more hoping, no more wondering how to get there, no more excuses… I have put it all together for you in this course. Just grab your guitar and follow through the step-by-step training and together we'll make it a reality.

To make it accessible to everyone I'm doing a very special promotion for the Start Soloing Today launch and slashing 50% off the usual price. This is a limited offer and when the countdown timer reaches zero the price will return to $47.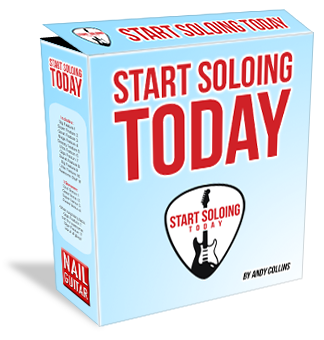 Get
Start Soloing Today
now for
$97
just
$47
Secure Your Copy of Start Soloing Today and become
the awesome lead guitarist you've always wanted to be!
To sweeten the deal for those of you who purchase the Start Soloing Today during the launch period I'm including a very special launch bonus, The TBA Jam Pack valued at $27.

When the timer hits zero this bonus will be removed.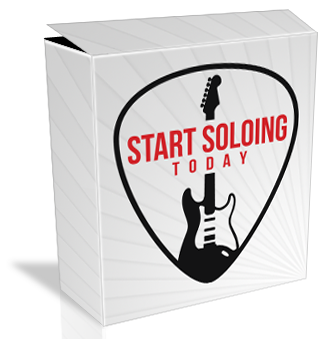 Frequently Asked Questions & Answers
Start Soloing Today is NOT a membership program site, meaning that once you buy it, it's yours to use for life with one single payment and no recurring monthly fees.
How will I receive Start Soloing Today?
Click the purchase button below and you will be directed to our secure online order page. After ordering, you will receive an email with your personalized download link.
Is it safe for me to pay online?
Yes, Nail Guitar courses are sold through (and hosted on) Teachable - one the biggest and most trusted online retailers specializing in digital courses.
How will I receive my purchase?
At check out you will be prompted to enter your email. Immediately after purchase you will be sent a secure download link to immediately start your Give Me Drums download.
If you're ready to start soloing TODAY, click the "BUY NOW" button below!


Nail Guitar © All Rights Reserved